Saving the planet through religion
Eco-faith organizations become a mobilizing force to act on the climate crisis through political action, community engagement and messages of hope for an uncertain future.
by Shreya Agrawal
KOLKATA, India –– Miao Ru dreams of being reborn in a "pure land" where she can find inner peace. When she closes her eyes, she sees a paradise containing bejeweled pavilions surrounded by lush trees, green ferns and pure, clean water covered with blooming lotuses. This is the Western Pure Land created by the Amitabha Buddha, one of the five primary spiritual guides in Buddhism, who sits in the middle of this ethereal land.
"Those beings who die, Amitabha Buddha says to them, 'I have this special place, this pure land. If you believe me, come and you can continue your practice here until you get enlightened,'" Ru said.
Ru believes it is important to create a pure land in the sahā world, where people reside until they reach Nirvana. Since she became a Buddhist over two decades ago, she has lived a simpler life: wearing a white temple uniform, keeping herself and her surroundings clean and being mindful of her place in the world.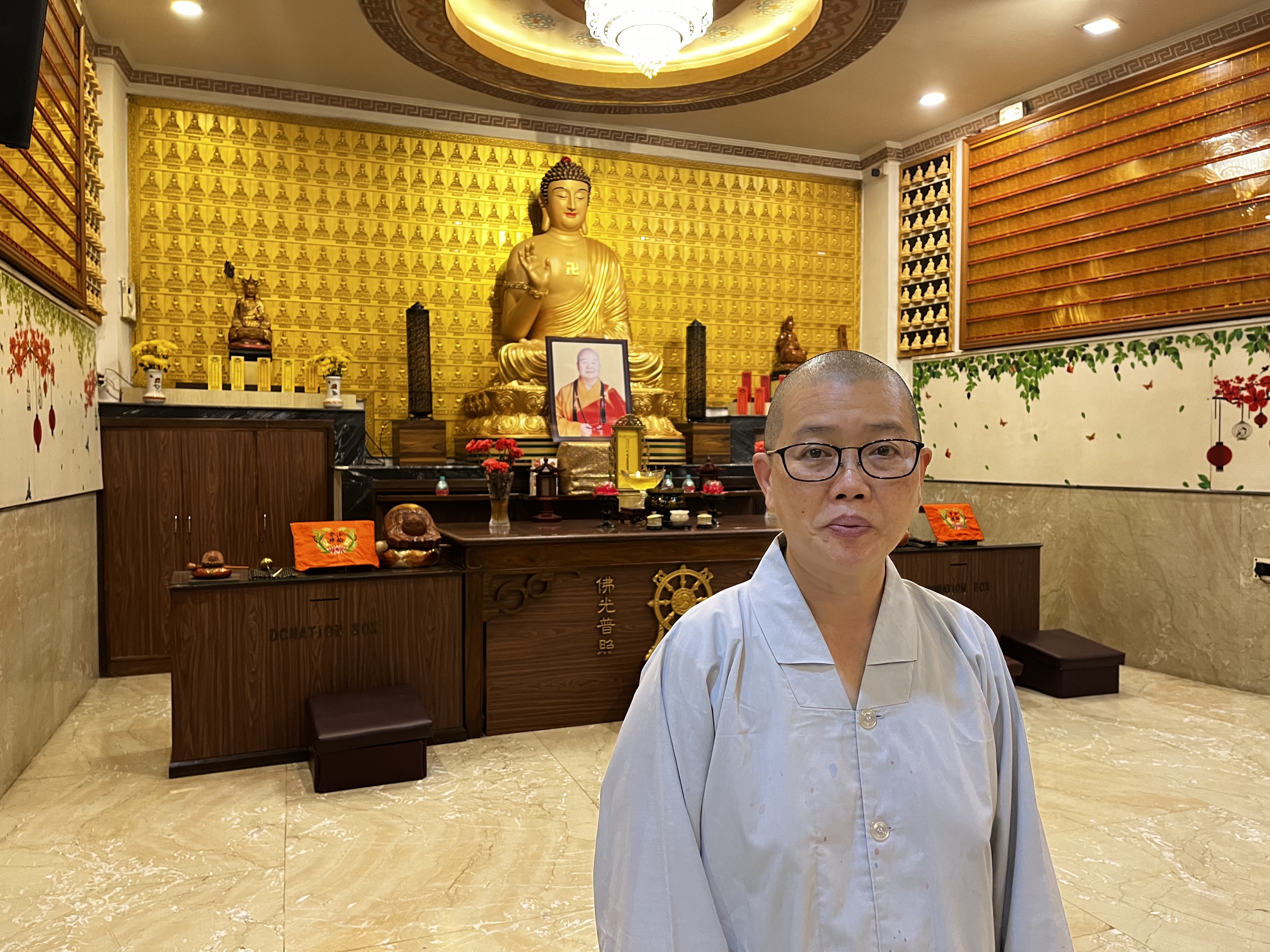 Inside the Fo Guang Shan temple in Kolkata, the city folk can find a clean, peaceful space to reconnect with their inner selves. Outside, people breathe in air that is more than 13 times polluted than the safety limits set by the World Health Organization. The Hooghly river, a tributary of the Ganges that flows through the city, has such high levels of contamination that fish struggle to stay alive. Surrounded by constant noise pollution and trash-lined streets, "[people] have to fight to live, and so they may not be able to focus on their practice very well," Ru said.
Most modern religions believe it is essential to maintain a strong connection with the natural world. But with the deterioration of the natural world, through human action, wildfires and natural disasters caused by the climate crisis, through deforestation and destruction of biodiversity, many religious organizations have made environmentalism a bigger agenda.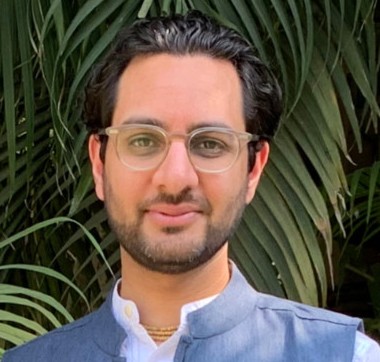 Gopal Patel
Co-founder and director of Bhumi Global
"Oftentimes, there is this sense of doom and gloom, this sense of hopelessness around the issue," said Tori Goebel, national organizer for Young Evangelicals for Climate Action. "But faith communities can bring a sense of rootedness and hope to the climate space."
For many who suffer from some level of eco-anxiety, faith-based environmental organizations offer a space where they can connect with like-minded individuals and engage in movements that build positive environmental change.
According to the United Nations Environmental Programme (UNEP), hundreds of faith groups and religious leaders from all over the world have engaged in faith-based climate action with the Faith for Earth initiative, which encourages faith groups to participate in the UNEP 2030 Sustainable Development Goals.
Eco-faith organizations promote climate action and environmentalism in many ways, such as emphasizing stewardship of the planet, building interconnectedness around solutions and advocating for environmental justice and human rights. These organizations influence systems at all levels: governments and politicians, communities, and finding individual hope to act on the climate crisis.
Mother Earth, the birthplace of all religion
Birendranath Chaturvedi, a priest at the Birla Temple in Kolkata, said that Hinduism believes the world has three kinds of life forms: animals and humans, plants and rocks.
He shared a story from Hindu mythology where in ancient times, mountains used to have wings and would fly over the world. When they decided to sit and take a break, sometimes they would settle down on villages and crush the entire civilization. Eventually, this angered Lord Indra, the Hindu god of rain, who decided to cut their wings off to stop the destruction. "They can still move but not like they used to," Chaturvedi said, giving an alternative religious explanation for the well-established scientific theory of plate tectonics.
Religion was born out of the need to explain the world around us. "Every religion came out of nature in some way," said Gopal Patel, co-founder and director of Bhumi Global, an international Hindu organization that promotes environmentalism. "Every religion is steeped in stories about caring for the natural world."
Biblical texts state that God had instructed Noah to build an ark to protect the world's biodiversity from the great flood. In Hindu mythology, a powerful ruler named Harishchandra protects a sacred grove from being cut down by a woodcutter at the cost of his kingdom and personal well-being. Hundreds of stories in Buddhist texts contain moral lessons about the natural world that build an interconnected relationship with nature.
Today, most major religions have evolved into more human-centric philosophies. But many faiths in the world still pray to entities deeply rooted in nature, like Shintoism in Japan, Jainism in India and many tribal religions from all over the world.
Environmentalism within an individual, or the lack of it, depends on a combination of values that one believes in, whether political, social or philosophical. Faith and religion are values-based ways of thinking and encourage spiritual and moral responsibility within their members.
"Our faith respects and preserves all living beings," said Rakesh Mehta, a Jain priest in Kolkata. He said that Jains are taught to dissolve any leftover food in their plates with water and drink it. "We avoid wasting any food and prevent insects from sitting on plates and dying."
Mehta believes capitalism and industrial development have increased access to resources, which "reduces value for resources and promotes bad habits," which often lead to unsustainable practices. He blames this change in value systems for the extreme amount of pollution in the environment.
For him, this spiritual crisis creates all other kinds of crises. "Nature is part of God's power but our tendency has become to exploit," he said. "We shouldn't just protect nature because we want to survive. It is our act of service towards God's creation."
Taking political action
Environmentalist Dahlia Rockowitz sees the climate crisis as a Jewish issue. As the Washington director of Dayenu, an organization that mobilizes the American Jewish community "to confront the climate crisis with spiritual audacity and bold political action," she aims to root the climate crisis in the Jewish spirit, tradition and text.
"The Jewish people, the ancient Israelites, have faced existential threats before and have survived and thrived," she said. "We continue to build a Jewish community, and an American community at large, that has the moral courage and strength to confront the climate crisis through spiritual adaptation."
Dayenu's approach to spiritual adaptation involves workshops on confronting the climate crisis with hope, finding comfort in the climate crisis through arts and music and reflections on biblical teachings through an eco-conscious lens through a religious document called the Climate Torah.
Rockowitz believes environmental justice cannot be achieved without political action. According to a 2022 poll by the National Survey of Jewish Voters, almost a third of Jewish voters ranked climate change as the top issue that the Biden administration should focus on, followed closely by voting rights and the economy.
So, just before the 2022 midterm elections, Dayenu organized the Chutzpah 2022 campaign, a non-partisan effort with the Environmental Voter Project to "elevate climate as an election issue."
"We called on candidates to commit to climate action," Rockowitz said. "A member of Congress actually read from some of our Climate Torah commentary during the debate in Congress around the Inflation Reduction Act," referring to the congressional speech by Sen. Ben Cardin (D-Md.).
Religious institutions around the world have combined assets worth trillions of dollars, significant portions of which have been invested in fossil fuels. Dayenu and a number of faith-based environmental organizations around the world have been encouraging banks, politicians and religious institutions to disinvest from fossil fuels. Operation Noah and Christian Climate Action are two major faith-based environmental organizations in the United Kingdom that have led political campaigns for the divestment movement.
"We've got a number of bishops and dioceses in the Church of England and the Catholic Church who have agreed to get their pension funds out of fossil fuels," said Mike Mullins, a member of Christian Climate Action, a community of environmentally-minded Christians in London.
Christian Climate Action has also campaigned against two major banks that have invested heavily in fossil fuels, Barclays and HSBC. In the past year, both banks have either agreed to tighten new lending projects or divest from fossil fuels completely.
Hear Cameron Conant talk about churches in England divesting from fossil fuels.
Operation Noah conducts an annual Global Divestment campaign that many organizations from around the world participate in. Cameron Conant, a board member of Operation Noah, said the constant pressure by faith groups on churches in the United Kingdom has proven to be a success: almost all churches in the country have almost entirely divested from fossil fuels.
"[Faith-based communities] shape how people think, what they do, what they value," he said. "The climate crisis is a moral problem. It is actually an ethical problem, and faith groups are really well placed to address this moral and ethical issue of our time."
One of the major goals of Operation Noah is to mobilize people towards putting pressure on corporations and governments to stick to net-zero emissions goals. Cameron Conant, a board member of Operation Noah, believes that to achieve these goals, the climate issue needs to be framed as nonpartisan. "You can be a conservative or a libertarian or a liberal, but if the air pollution on your road is really bad… that's a problem whatever your political philosophy is. We need to do something about it as a community, because children should be able to live on a road that's not really polluted," he said.
For Mullins, faith groups must take a part in climate politics. "I would say [the Church not being involved in politics] is a travesty because politics is about people. Politics is about justice. And what is justice? Justice is love in the public arena and Christianity is fundamentally about love," he said.
Engaging communities
Tori Goebel believes that caring for all of God's creation is a key part of Christian philosophy. She grew up in a church where she was taught to care for the downtrodden members of society, but it was not until she went to college that she realized climate change harms less privileged communities.
"I began to be confused about why I hadn't seen Christians engaging in this issue, because for me, I saw this deeply connecting to my faith, to the values I grew up with," she said.
Goebel decided to get a masters degree in environmental law and policy and currently works as the spokesperson for the Young Evangelicals for Climate Action (YECA), an organization that serves "to equip, empower, and catalyze young Christians to love God and love our neighbors through bold, wholehearted, and faithful climate action.
"We can't follow Christ and live out our calling to love God and love our neighbors without acting on climate change. Faith is really our key motivator," she said.
YECA has taken several initiatives to promote climate action, including rallies on Capitol Hill and other political action around the Bipartisan Infrastructure Deal and Inflation Reduction Act that raises awareness within young Christians to hold leaders accountable. But one of their most important initiatives is to engage churches "to live more fully into our faith" and "take action on climate and caring for the environment."
Goebel believes that faith groups can act as "trusted messengers" when it comes to reaching audiences who find it difficult to engage in climate discourse. "It can be challenging to change our mind about something…[faith-based organizations create] a community in a space for [people] to meet other people and to create plans to kind of change that and influence their own community," she said.
Faith-based communities encourage taking even the smallest levels of climate action to be a part of positive change. Bhumi Global has organized several "greening" campaigns in Indian temples to reduce pollution in their communities. The Indian Youth Climate Network worked on a composting project with the United Nations to reduce food waste in and around temples.
Some organizations have thought of creative ways to engage the community. For example the Buddha's Light International Association (BLIA) organizes a global initiative called the VegRun, which are marathons intended to promote vegetarianism.
According to Miao Ru, there are multiple benefits to the program. "Running makes you healthy. Being vegetarian helps protect the environment and also helps raise awareness about the environment. But it also helps raise compassion. All of that is something we emphasize," she said.
These marathons also allow the organization to give back to less privileged communities while promoting climate action. In Africa, students from low-income families are encouraged to participate in exchange for five kilograms of rice. "So at the same time, we are promoting environmentalism and vegetarianism and we are doing charity," Ru said.
Finding hope and inner peace
Growing up in a small town in Indonesia, Miao Ru found herself in a family devoid of love. She struggled to find meaning in her life and as a teenager, attempted suicide in a room full of people. As she moved through early adulthood, finding a job in a factory in Jakarta, she soon found people who connected her with Buddhism.
"A current passed through my spine," she said, describing her first time in a Buddhist temple, listening to the verses. "By the third time, I knew I had found my religion."
Ru says one of the fundamental beliefs of Buddhism is the idea that individuals and nature are one, a relationship between "the formed and the formless."
"The outside environment influences the inside environment and makes it better, and then you have the motivation to make the outer world better," she said. "It is a circle that you have to work on continuously."
According to the Pew Research Center, more than 80% of people in the world identify with a religion. By connecting climate discourse with faith and religious philosophies, more people can be mobilized towards acting on the climate crisis.
"We have all these teachings of how to live in balance or harmony with the natural world," Patel said. "But the real issue is to learn how to apply these concepts and principles in the world today."